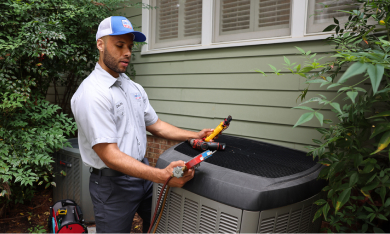 24/7 AC and Heating Services in Suitland-Silver Hill, MD
Being close to the nation's capital and with many businesses nearby, Suitland-Silver Hill is a great place to call home. If you own property in this area, you'll want to know who you can count on to make sure your home stays comfortable. United Air Temp provides HVAC services, including:
Contact us online for help with any of these concerns.
We Proudly Serve NOVA, DC & BALT Areas
Get started by filling out a service request form.
Suitland-Silver Hill Air Conditioning Services
Suitland-Silver Hill has beautiful summers, but they often come with significant humidity. You'll need a working cooling system to keep your home comfortable. We recommend having your system checked early in the spring, so you'll be ready when the summer weather arrives.
United Air Temp offers our Suitland-Silver Hill customers a complete list of air conditioning services. You can count on us for:
Schedule your cooling services in your Suitland-Silver Hill home today.
Heating Services in Suitland-Silver Hill
Keeping your home warm in the winter is as important as keeping it cool in the summer. Cold winters, often with snow, are part of life here. Our heating services will keep you cozy when the temperatures drop. You can contact United Air Temp for:
Contact our Suitland-Silver Hill HVAC techs today for heating services.
Indoor Air Quality Services
Indoor air quality is a common cause of allergies and respiratory concerns at home. If your family is struggling with these symptoms, or if they have fatigue and headaches, you might want to have your indoor air quality tested. If you know you have a problem, we can help with:
Contact us today to schedule indoor air quality services with United Air Temp.
Why Choose United Air Temp?
United Air Temp is known for quality indoor air quality and HVAC services. We have over 90 years of experience in these industries, and we're committed to ensuring you're 100% satisfied with our services. We offer maintenance plans, on-time service, and expert knowledge to provide the solutions you need.
Schedule your HVAC service in Suitland-Silver Hill by contacting us online today.

Why Choose Us
Discover the United Difference
Environmental Health & Safety
Environmental Health & Safety
Save on Your Service
Our Goal Is to Keep Your Home Comfortable
FREE

second opinion – HVAC or Plumbing replacement
Expires 03/31/23
$25 OFF

for referrer and friend
Expires 03/31/23
$50

diagnostic for first- time plumbing customer
Expires 03/31/23
What Our Clients Are Saying

The tech was at my home less than 10 minutes and gone within 20 minutes due to having my A/C up and running. I really appreciate his response to my home and working with my son due to me being out of town, but we spoke on the phone.

The technician arrived promptly, wore a mask, was very courteous and professional. I am generally very satisfied with service by United Air Temp. In addition to good service (they repair well), it is easy to speak to a person, and promptly. Thank you.

Great service! I called because I was under the impression the AC was not working upstairs. Someone came on the same day, checked out the system, and ensured everything was working. He was polite, thorough, and friendly.

Tech was very attentive and professional. He went out his way to explain everything to me as he was doing it. I appreciated him keeping me informed.
The service technician was awesome! He spent the extra time necessary to ensure the leak in our system was fixed, the system fully recharged and everything was functioning as it should. He was extremely thorough and very professional. We are extremely pleased with the result!