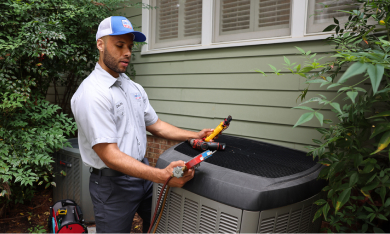 Air Conditioning and Heating Service in Annapolis, MD
From mansions to humble abodes, Annapolis is home to some of Maryland's most beautiful, high-quality homes. And as a homeowner of one of these priceless properties, you'll want to ensure the systems within it continue to run smoothly, so you and your loved ones stay comfortable all year.
That's why you can count on United Air Temp to provide all your HVAC needs, including:
Get your HVAC needs all in one place with United Air Temp. Contact us online to schedule service in Annapolis.
Air Conditioning Services 
The weather in Annapolis can get pretty heated, hovering in the high 80s during the summer. The last thing you'd want to find out in the middle of June is that your AC isn't working as it should. We recommend scheduling an air conditioning service in early spring to make sure everything's running smoothly by the time summer rolls around.
When you're ready to schedule an appointment, you'll have a full range of air conditioning services to choose from, including:
Achieve cooling comfort with the help of our experts. Contact us online to schedule AC service in Annapolis.
Heating Services
Being close to the water has its advantages, although it also means pretty frigid winters. You'll want to have access to reliable heating to prevent your home from feeling like a freezer. To keep you and your loved ones warm and cozy all winter, we offer these heating services:
Save on your energy bills, reduce the need for repairs, and extend the life of your heater with professional heating services in Annapolis.
Contact United Air Temp to schedule an appointment.
Indoor Air Quality Services 
You may be surprised to know your indoor air may be up to five times more polluted than the air outside. Poor indoor air quality can lead to health problems such as irritation of the skin, eyes, and nose and breathing issues, fatigue, and headaches.
To improve your indoor air quality, United Air Temp offers a variety of solutions, including:
Breathe cleaner, fresher air with indoor air quality services from United Air Temp in Annapolis.
Contact us online to find out which solution is right for you.
Why Choose United Air Temp?
With United Air Temp, you can always expect high-quality services. Throughout our 90+ years in business, we continue to maintain our commitment to working on your HVAC systems until you're 100% satisfied with our service.
Whether it's a one-time job or ongoing services through our maintenance plans, we're ready to bring you the solutions you need.
Experience maximum convenience with United Air Temp, your all-in-one service company.
Contact us online to schedule an HVAC service in Annapolis.

Why Choose Us
Discover the United Difference
Environmental Health & Safety
Environmental Health & Safety
Save on Your Service
Our Goal Is to Keep Your Home Comfortable
FREE

second opinion – HVAC or Plumbing replacement
Expires 03/31/23
$25 OFF

for referrer and friend
Expires 03/31/23
$50

diagnostic for first- time plumbing customer
Expires 03/31/23
What Our Clients Are Saying

The tech was at my home less than 10 minutes and gone within 20 minutes due to having my A/C up and running. I really appreciate his response to my home and working with my son due to me being out of town, but we spoke on the phone.

The technician arrived promptly, wore a mask, was very courteous and professional. I am generally very satisfied with service by United Air Temp. In addition to good service (they repair well), it is easy to speak to a person, and promptly. Thank you.

Great service! I called because I was under the impression the AC was not working upstairs. Someone came on the same day, checked out the system, and ensured everything was working. He was polite, thorough, and friendly.

Tech was very attentive and professional. He went out his way to explain everything to me as he was doing it. I appreciated him keeping me informed.
The service technician was awesome! He spent the extra time necessary to ensure the leak in our system was fixed, the system fully recharged and everything was functioning as it should. He was extremely thorough and very professional. We are extremely pleased with the result!