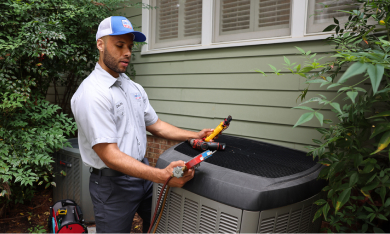 24/7 AC and Heating Services in Towson, MD
Home of Maryland's second-largest university, this college town offers a variety of amazing things to do. But as delightful as Townson can be, experiencing an issue with your heating or air conditioning can put a huge damper on any homeowner's day.
United Air Temp offers comprehensive HVAC services to keep your home running smoothly so you can enjoy every day without a hitch.  
Schedule HVAC services in Towson by contacting United Air Temp online.
We Proudly Serve NOVA, DC & BALT Areas
Get started by filling out a service request form.
Air Conditioning Services
Excessive sweating, sticking to the couch, and sustained discomfort can all result from a broken air conditioner. To avoid heat-induced inconvenience and frustration, our technicians are highly trained to bring you reliable access to cool, conditioned air with services including:
Contact United Air Temp to schedule an air conditioning installation, repair, or maintenance service in Towson.
Heating Services 
The biting cold of Towson winters can feel brutal without a fully functioning heater. If you notice your heater isn't putting out as much heat as it used to, is making odd noises when turned on, or isn't turning on, call our professionals for help.
To get your heater running as good as new, we provide a variety of heating services:
Never be without reliable heating when you choose United Air Temp. Contact us online to schedule service in Towson.
Indoor Air Quality Services
Did you know the air in your home can affect your health? Whether it's due to tobacco smoke, your HVAC system, or excessive carbon monoxide, poor indoor air quality can lead to trouble breathing, poor quality of sleep, and skin and eye irritation, so it's crucial to keep it as clean as possible.
With help from our experts, you can choose from a variety of indoor air quality systems for your home:
Contact United Air Temp today to schedule an indoor air quality service in Towson.
Why Choose United Air Temp?
At United Air Temp, your convenience and comfort are our top priorites. We're glad to provide hassle-free upfront pricing, affordable maintenance plans, and monthly promotions to help you save even more on the services you need.
Experience over 90 years of quality HVAC services when you choose United Air Temp!
Keep your home comfortable, functional, and convenient by scheduling an HVAC service with United Air Temp.
Contact us online for services in Towson.

Why Choose Us
Discover the United Difference
Environmental Health & Safety
Environmental Health & Safety
Save on Your Service
Our Goal Is to Keep Your Home Comfortable
FREE

second opinion – HVAC or Plumbing replacement
Expires 03/31/23
$25 OFF

for referrer and friend
Expires 03/31/23
$50

diagnostic for first- time plumbing customer
Expires 03/31/23
What Our Clients Are Saying

The tech was at my home less than 10 minutes and gone within 20 minutes due to having my A/C up and running. I really appreciate his response to my home and working with my son due to me being out of town, but we spoke on the phone.

The technician arrived promptly, wore a mask, was very courteous and professional. I am generally very satisfied with service by United Air Temp. In addition to good service (they repair well), it is easy to speak to a person, and promptly. Thank you.

Great service! I called because I was under the impression the AC was not working upstairs. Someone came on the same day, checked out the system, and ensured everything was working. He was polite, thorough, and friendly.

Tech was very attentive and professional. He went out his way to explain everything to me as he was doing it. I appreciated him keeping me informed.
The service technician was awesome! He spent the extra time necessary to ensure the leak in our system was fixed, the system fully recharged and everything was functioning as it should. He was extremely thorough and very professional. We are extremely pleased with the result!