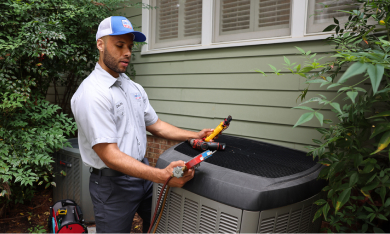 HVAC & Plumbing Services in Crofton, MD
Trust United Air Temp With All Your Home Service Needs
Making sure your home is comfortable, clean, and safe is a big undertaking requiring years of specialized HVAC and plumbing training to master. At United Air Temp, our heating, air conditioning, and plumbing experts have delivered the top-quality home service solutions Crofton residents have trusted since 1931.
With nearly 100 years of experience in the industry, we're confident our team can resolve any HVAC or plumbing service request that comes our way.
Schedule heating, AC, or plumbing services with United Air Temp.
We Proudly Serve NOVA, DC & BALT Areas
Get started by filling out a service request form.
Air Conditioning Services in Crofton, MD
Keep heat and humidity far from your home with help from the team at United Air Temp. We offer the comprehensive cooling services that Crofton families need to remain comfortable, including:
Let our team keep your home cool when it counts by requesting air conditioning services today. 
Crofton Area Heating Services
United Air Temp has nearly 100 years of experience delivering superior heating solutions throughout the Crofton region. We offer a broad range of heating services to help keep families comfortable, including:
Heating installation & replacement: Our team can meet your heating installation or replacement needs, from furnaces to heat pumps, ductless mini-splits, and dual-fuel systems.
Heating repair: Whether your furnace fails at 3 a.m. on a Saturday or 2 p.m. on a Tuesday, our 24/7 emergency heating repair specialists are here to restore high-performance heat to your home in no time.
Heating maintenance: Ensure your heating equipment can meet your comfort demands by scheduling annual heating maintenance services with the United Air Temp team.
Contact United Air Temp to request heating services for your Crofton area home.
HVAC Maintenance Programs for Crofton Families
United Air Temp makes HVAC maintenance easy, convenient, and affordable with our cost-effective heating and cooling maintenance programs. Through our HVAC maintenance plans, Crofton families will receive:
Two annual service visits: one for heating equipment and one for AC
Priority service scheduling
Personalized service reminders
Exclusive membership discounts
And more
Enjoy lower heating and cooling costs, improved comfort, and an extended system life span by joining our maintenance program!
Contact us today to learn more and sign up.
Indoor Air Quality Solutions in Crofton, MD
Home comfort goes beyond the temperature of your living space. You also need to ensure your home's air remains free of harmful airborne contaminants. At United Air Temp, our team offers a wide variety of indoor air quality solutions to help keep Crofton homes clean and comfortable for the long term.
Our indoor air quality services include:
Air filtration systems
Air cleaners
Contact our team to schedule indoor air quality services in Crofton, MD.
Plumbing Services for Crofton, MD Homes
Our plumbing experts have years of experience providing a variety of common household plumbing services throughout the Crofton region. We proudly offer:
Kitchen and bathroom plumbing solutions
And more
No matter what your plumbing problems may be, United Air Temp has the team you need to resolve the issue.
Contact us to request plumbing services in Crofton, MD.
Why Choose Us?
Discover the United Air Temp Difference
For nearly 100 years, Crofton residents have counted on the United Air Temp team for:
Trained technicians
Upfront pricing
Environmental health & safety
Value-added services
On-time scheduling
Commitment to community
Quality work
Satisfaction guaranteed
Experience the United Air Temp difference for yourself: Schedule heating, AC, or plumbing services in Crofton, MD, today.

Why Choose Us
Discover the United Difference
Environmental Health & Safety
Environmental Health & Safety
Save on Your Service
Our Goal Is to Keep Your Home Comfortable
FREE

second opinion – HVAC or Plumbing replacement
Expires 03/31/23
$25 OFF

for referrer and friend
Expires 03/31/23
$50

diagnostic for first- time plumbing customer
Expires 03/31/23
What Our Clients Are Saying

The tech was at my home less than 10 minutes and gone within 20 minutes due to having my A/C up and running. I really appreciate his response to my home and working with my son due to me being out of town, but we spoke on the phone.

The technician arrived promptly, wore a mask, was very courteous and professional. I am generally very satisfied with service by United Air Temp. In addition to good service (they repair well), it is easy to speak to a person, and promptly. Thank you.

Great service! I called because I was under the impression the AC was not working upstairs. Someone came on the same day, checked out the system, and ensured everything was working. He was polite, thorough, and friendly.

Tech was very attentive and professional. He went out his way to explain everything to me as he was doing it. I appreciated him keeping me informed.
The service technician was awesome! He spent the extra time necessary to ensure the leak in our system was fixed, the system fully recharged and everything was functioning as it should. He was extremely thorough and very professional. We are extremely pleased with the result!