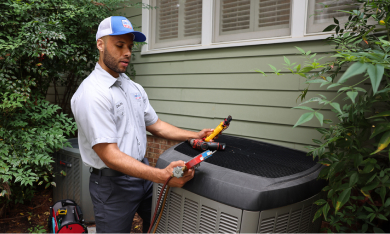 Tankless Water Heater Replacement in Northern Virginia and Washington D.C.
Tankless water heaters have been around for a while, and now they are no longer a new technology. Though they do tend to outlast conventional storage tank-style units, the time will come when a tankless water heater will need to be replaced. If you are nearing that point, the Washington, DC, plumbers at United Air Temp are ready to help you with tankless water heater replacement.
For new tankless water heater installation, contact United Air Temp today.
Top Signs Your Tankless Water Heater Needs Replacement
How can you tell that it's time to get a new tankless water heater if yours appears to be working correctly? Some things that may indicate it's time for a new system include:
Age: You can expect up to 20 years of good, reliable service from a tankless water heater if you take good care of it. If you're reaching this age, then it's time to consider thinking about a replacement before you suffer failure.
Rising costs for hot water: If your gas or electric bills are spiking, it may be because your water heater is no longer working efficiently.
Problems with the hot water: Tankless systems should provide nearly instant hot water. If that's not what you're getting, you may need a new one.
Costly repairs: Our team can help with tankless water heater repairs, but replacement is usually more cost-effective if your unit requires high-cost repairs or a major component fails.
If you notice any of these problems, reach out to United Air Temp for tankless water heater replacement.
Request Service
Get started by filling out a service request form or by giving us a call.
Our Tankless Water Heater Replacement Services in the DC Metro
If you need a new tankless water heater, you can count on United Air Temp to do the job well. Hiring a professional for this job helps ensure that it is done well, without undue risk to your family. When you work with United Air Temp, we will consider the fuel type, size, and energy efficiency you need to meet the needs of your home and family. We install the system professionally to ensure optimal performance and protect your family. We will even haul away your old unit, so you don't have to worry about that.
Contact United Air Temp to learn more about our tankless water heater replacement services or schedule your unit's replacement today.
Why Choose United Air Temp for Washington, DC Tankless Water Heater Replacement?
United Air Temp has been offering plumbing services in Washington, DC, since 1931. We have the experience you want on the job, and we have a strong commitment to our business ethics. We will provide service with honesty, integrity, and trustworthiness, treating your home and family with respect. We provide a written report for all of the work we perform, so you can be confident that you get what you pay for.
Schedule an estimate for a new tankless water heater, and learn why United Air Temp is the logical choice for your water heater replacement needs in Washington, DC.

Why Choose Us
Discover the United Difference
Environmental Health & Safety
Environmental Health & Safety
Save on Your Service
Our Goal Is to Keep Your Home Comfortable
BOGO! $99 Buy This Year's Tune Up, Get Next Year's Free.
Expires 12/31/23
Plus, up to 2 lbs of refrigerant if needed. *Cannot be combined with any other offer. Call for details.
Save Up To $2,000

When You Buy a Complete HVAC System with A/C and Furnace!
Expires 12/31/23
*Cannot be combined with any other offer. Not applicable for a heat pump system.
What Our Clients Are Saying

The tech was at my home less than 10 minutes and gone within 20 minutes due to having my A/C up and running. I really appreciate his response to my home and working with my son due to me being out of town, but we spoke on the phone.

The technician arrived promptly, wore a mask, was very courteous and professional. I am generally very satisfied with service by United Air Temp. In addition to good service (they repair well), it is easy to speak to a person, and promptly. Thank you.

Great service! I called because I was under the impression the AC was not working upstairs. Someone came on the same day, checked out the system, and ensured everything was working. He was polite, thorough, and friendly.

Tech was very attentive and professional. He went out his way to explain everything to me as he was doing it. I appreciated him keeping me informed.
The service technician was awesome! He spent the extra time necessary to ensure the leak in our system was fixed, the system fully recharged and everything was functioning as it should. He was extremely thorough and very professional. We are extremely pleased with the result!