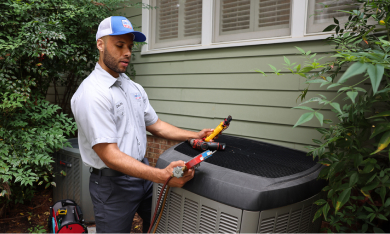 Tankless Water Heater Repair in DC, MD & Northern VA
A water heater that isn't working correctly is not beneficial to your home or family. When that happens, you can count on the team at United Air Temp to get it working again without delay. Hot water is vital to your family's health, and we're here to keep your water heater functioning properly.
If you're having tankless water heater problems, contact United Air Temp for help.
How Do Tankless Water Heaters Work?
A tankless water heater provides instant hot water without relying on a storage tank to keep it heated, which wastes energy. Tankless water heaters use high-efficiency heating elements to heat water when you need it right when it flows through the system.
As a result, you won't have your hot water run out because the water gets heated while you use it. That's why tankless water heaters are one of the most cost-effective ways to provide hot water for your Washington, DC, home.
Request Service
Get started by filling out a service request form or by giving us a call.
Tankless Water Heater Repair Services
Waking up to find you have no hot water is never a pleasant surprise. Like all plumbing systems, tankless water heaters can break down from time to time. When that happens, we'll send a qualified plumber to help you determine the root cause of your problem.
We offer effective repair solutions that will get things back up and running, so you'll have reliable hot water again.
At the first sign of trouble, contact United Air Temp for help.
6 Signs You Need Tankless Water Heater Repair Services
Knowing how to spot signs of tankless water heater problems will help you make the right choice when wear and tear start to take their toll. Signs that it may be time to call a professional for repair include:
Hot water has a strange smell or taste.

You hear strange sounds from your unit.

The water temperature or pressure gets inconsistent.

Water quality problems.

Error messages from the unit display.

Leaks from the system.
When these signs pop up, United Air Temp is ready to help. Contact us for service right away.
Choose United Air Temp for Tankless Water Heater Repairs in Washington, DC
Tankless water heater problems can create serious issues for your family, and United Air Temp is here to help. Our team offers tankless water heater repairs in Washington, DC, and the surrounding communities. We'll respond promptly when you call for service so you can regain a working water heater in no time.
Schedule water heater repair services with United Air Temp today in Washington, DC.
Tankless Water Heater Repair FAQs
How long do tankless water heaters last?
Before calling for tankless water heater repair, you must evaluate whether repair or replacement is best. These systems tend to last about 15 to 20 years. If yours is nearing the end of that life span, it's time to consider repair.
Can tankless water heaters leak?
Yes, tankless water heaters can develop leaks. This is a sign your system needs to be repaired. Contact a qualified plumber at United Air Temp today.

Why Choose Us
Discover the United Difference
Environmental Health & Safety
Environmental Health & Safety
Save on Your Service
Our Goal Is to Keep Your Home Comfortable
BOGO! $99 Buy This Year's Tune Up, Get Next Year's Free.
Expires 12/31/23
Plus, up to 2 lbs of refrigerant if needed. *Cannot be combined with any other offer. Call for details.
Save Up To $2,000

When You Buy a Complete HVAC System with A/C and Furnace!
Expires 12/31/23
*Cannot be combined with any other offer. Not applicable for a heat pump system.
What Our Clients Are Saying

The tech was at my home less than 10 minutes and gone within 20 minutes due to having my A/C up and running. I really appreciate his response to my home and working with my son due to me being out of town, but we spoke on the phone.

The technician arrived promptly, wore a mask, was very courteous and professional. I am generally very satisfied with service by United Air Temp. In addition to good service (they repair well), it is easy to speak to a person, and promptly. Thank you.

Great service! I called because I was under the impression the AC was not working upstairs. Someone came on the same day, checked out the system, and ensured everything was working. He was polite, thorough, and friendly.

Tech was very attentive and professional. He went out his way to explain everything to me as he was doing it. I appreciated him keeping me informed.
The service technician was awesome! He spent the extra time necessary to ensure the leak in our system was fixed, the system fully recharged and everything was functioning as it should. He was extremely thorough and very professional. We are extremely pleased with the result!