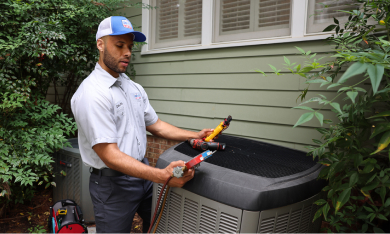 How do Tankless Water Heaters Work?
If you've only ever owned a standard tank water heater, the thought of getting hot water without a tank might not make much sense. However, tankless water heaters mitigate many of the pitfalls of standard tank water heaters, all while delivering consistent hot water you can count on.
Read on to learn how tankless water heaters work and their benefits.
How Tankless Water Heaters Deliver Hot Water
A tankless water heater switches on when you need it and turns off when you're done. It's an efficient, automated system that reliably provides as much hot water as you want. Here are the five main steps to the tankless heating process:
Step one: You turn on the hot water at the faucet.
Step two: Cold water enters the heater and flows through the heat exchanger.
Step three: Depending on if you have a electric- or gas-powered unit, electrical heating coils or a gas burner will heat the water.
Step four: The heated water flows through your pipes to the faucet you've turned on.
Benefits of Tankless Water Heaters
Most of us have yelled mid-shower because the hot water suddenly ran out, or we've strategized the best time to run the dishwasher to ensure there'll be hot water for the kids' baths.
A tankless water heater eliminates these concerns and provides many other benefits, including:
Improved efficiency: As tankless water heaters work on-demand instead of constantly running to maintain the tank's temperature, they are 30% to 50% more efficient.
An endless supply of hot water: The most enjoyable aspect of a tankless water heater installation is no longer running out of hot water. More than one person can take a hot shower simultaneously, or you can start a hot water load of laundry and then immediately take a steaming bath. Even if you exceed the flow rate of your unit, your water will be warm instead of ice cold.
Decreased risk of failure: With tank water heaters, there is a greater risk of flooding and water damage due to rusting, component failure, or overpressurization. The most your tankless water heater will ever do is leak, and that's unlikely if it's well-maintained.
Reduced maintenance needs: With fewer elements to check and clean, tankless water heaters are low maintenance. Some homeowners choose to clean and flush the system themselves, although a professional plumber can handle it on an annual maintenance service appointment.
More space: Without a tank, tankless water heaters are mounted on a wall, freeing up usable floor space.
Extended service life: With regular maintenance, tankless water heaters last 20 to 30 years, compared to a standard water heater's eight- to 15-year life span.
Choose United Air Temp for Your Tankless Water Heater Installation
At United Air Temp, we can help you choose the best tankless water heater for your home and expertly install it to ensure peak performance. We can also maintain your system to minimize the need for repairs and preserve its long life.
We install tankless water heaters in:
Call us at (703) 516-8300 or contact us online for a free estimate and top-quality customer service.
Why Choose Us
Discover the United Difference
Environmental Health & Safety
Environmental Health & Safety
Save on Your Service
Our Goal Is to Keep Your Home Comfortable
What Our Clients Are Saying

The tech was at my home less than 10 minutes and gone within 20 minutes due to having my A/C up and running. I really appreciate his response to my home and working with my son due to me being out of town, but we spoke on the phone.

The technician arrived promptly, wore a mask, was very courteous and professional. I am generally very satisfied with service by United Air Temp. In addition to good service (they repair well), it is easy to speak to a person, and promptly. Thank you.

Great service! I called because I was under the impression the AC was not working upstairs. Someone came on the same day, checked out the system, and ensured everything was working. He was polite, thorough, and friendly.

Tech was very attentive and professional. He went out his way to explain everything to me as he was doing it. I appreciated him keeping me informed.
The service technician was awesome! He spent the extra time necessary to ensure the leak in our system was fixed, the system fully recharged and everything was functioning as it should. He was extremely thorough and very professional. We are extremely pleased with the result!