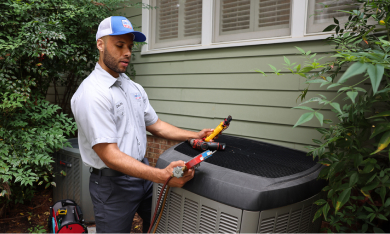 Plumbing Services in Beltsville, MD
Your home's plumbing connects you and your family to one of the most precious resources — water. You use it for consumption, cleaning, and waste disposal to maintain your home and your family's overall health.
At United Air Temp, our team of expert plumbers provides quality plumbing services to keep your plumbing system reliable and safe.
Whether you need an installation, repair, or replacement, you can count on our highly trained plumbers to deliver quality, full-service plumbing solutions when you enlist the services of a United Air Temp plumber.
A plumbing disaster won't wait, and neither should you. Call (877) 552-8919 or contact us online for professional plumbing service when you need it most.
Signs You Need a Plumber
Sometimes signs that you need a plumber are obvious, like a flooded basement. Sometimes it's not so obvious, like a tree root intrusion in your water line that may just seem like reduced water pressure.
Whatever the situation is, the signs are always there. Being attuned to them can help you determine what kind of professional intervention is needed and when you need it.
Signs you need a plumber include:
No running water
Slow-moving drains
Low water pressure
Frequent sink, drain, and toilet clogs
We Proudly Serve NOVA, DC & BALT Areas
Get started by filling out a service request form.
24/7 Emergency Plumbing for Beltsville Homeowners
Some plumbing situations can wait a day or two, while others require immediate action to prevent extensive damage to your home.
At United Air Temp, we're here to help when things take a turn for the worst with your plumbing. Our emergency response services can help you with:
Leaky or burst pipes
No water
No hot water
Failed sump pump
And other time-sensitive plumbing problems
Call (877) 552-8919 to request 24/7 emergency plumbing repair in Beltsville.
Full-Service Plumbing in the Beltsville Area
When it comes to your home's plumbing system in Beltsville, we know that you need comprehensive care you can depend on. Our team offers full-service plumbing assistance that caters to every aspect of your home's plumbing.
We've got you covered with plumbing services for:
Call (877) 552-8919 or contact us online to request plumbing services for your Beltsville home today!
Burst Pipe Replacement & Repair in Prince George's County
Nothing brings your day to a grinding halt like the sound of water rushing out of your pipes when it shouldn't be. You need fast and reliable burst pipe replacement or repair if you notice:
Frozen pipes
Water damage on walls and ceilings
Water gushing sounds
If you have a burst pipe, find your water shut-off valve to turn off your water and open all faucets to release the remaining water in the pipes. Always be aware of your surroundings and the risk of electric shock if you have flooding or standing water.
United Air Temp will arrive quickly to restore your water supply pipes. We're equipped with the tools, technology, and knowledge to detect the source of pipe failure and repair it quickly.
We Proudly Serve NOVA, DC & BALT Areas
Get started by filling out a service request form.
Toilet Replacement & Repair in Beltsville
At United Air Temp, we ensure that your toilet is in working order to keep your home sanitary, functional, and comfortable with expert toilet services.
You need professional toilet repair or replacement if:
Your toilet is frequently clogged.
Your toilet doesn't flush.
Your toilet has visible cracks in the porcelain.
Your toilet leaks at the base.
If you're considering DIY-ing your toilet installation, remember a running or leaking toilet can waste up to a gallon of water per hour.
Though it may seem like an easy enough job, toilets are delicate but heavy. Proper toilet installation allows for the safe removal of waste, so this job is best left to the professionals.
Contact us online or call (877) 552-8919 to request toilet services for your Beltsville home today!
Why Choose United Air Temp for Full-Service Plumbing Solutions?
Your Beltsville home deserves the best care, and we're always working to deliver top-quality plumbing services backed by stellar customer support you can rely on.
When you enlist the professional services of a United Air Temp plumber, a licensed and highly trained expert will show up on time, equipped with the necessary tools to evaluate your plumbing service needs and offer quality repairs or replacements.
To preserve the integrity of your home's plumbing system in Beltsville or the surrounding areas, call (877) 552-8919 or contact us online for professional plumbing repair services.

Why Choose Us
Discover the United Difference
Environmental Health & Safety
Environmental Health & Safety
Save on Your Service
Our Goal Is to Keep Your Home Comfortable
FREE

second opinion – HVAC or Plumbing replacement
Expires 03/31/23
$25 OFF

for referrer and friend
Expires 03/31/23
$50

diagnostic for first- time plumbing customer
Expires 03/31/23
What Our Clients Are Saying

The tech was at my home less than 10 minutes and gone within 20 minutes due to having my A/C up and running. I really appreciate his response to my home and working with my son due to me being out of town, but we spoke on the phone.

The technician arrived promptly, wore a mask, was very courteous and professional. I am generally very satisfied with service by United Air Temp. In addition to good service (they repair well), it is easy to speak to a person, and promptly. Thank you.

Great service! I called because I was under the impression the AC was not working upstairs. Someone came on the same day, checked out the system, and ensured everything was working. He was polite, thorough, and friendly.

Tech was very attentive and professional. He went out his way to explain everything to me as he was doing it. I appreciated him keeping me informed.
The service technician was awesome! He spent the extra time necessary to ensure the leak in our system was fixed, the system fully recharged and everything was functioning as it should. He was extremely thorough and very professional. We are extremely pleased with the result!