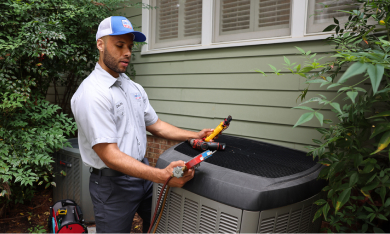 Plumbing Services in Severna Park, MD
Plumbing is an important part of your home. You use your plumbing every day for everything from personal hygiene to cooking. When plumbing problems appear, you need to know who to call.
United Air Temp's team of licensed plumbers is available for all your home service needs in Severna Park. We can help with everything from drain and sewer problems to water pipe and water heater troubles.
Whether you need an emergency plumber or want a free estimate, call (877) 552-8919 or contact us online today for service in Severna Park.
24/7 Emergency Plumbing Repair in the Severna Park Area
Some plumbing problems can't wait. If you have an emergent issue, you need help fast. Our plumbing professionals are standing by 24/7 to help when you have:
Frozen and burst pipes
A burst water heater
Sewage backup
Basement flooding
No water
Gas leaks
If you have a plumbing emergency, call (877) 552-8919 to get fast plumbing service.
Signs You Need a Plumber
Sometimes your plumbing problems are obvious, but other situations require a keen eye to know when you need plumbing services sooner rather than later. Calling at the first sign of trouble is a key to protecting your home.
Signs to watch for include:
Recurring drain clogs
Constantly running toilets
Low water pressure
Reduced hot water capacity
Changes to the taste or smell of your water
We Proudly Serve NOVA, DC & BALT Areas
Get started by filling out a service request form.
Sewer Line Replacement & Repair in Severna Park
You need fast repair to protect and restore your plumbing when you have a clog, crack, or break in your sewer line. At United Air Temp, we offer traditional and trenchless sewer line repair and replacement.
Whether you'll need repair or replacement depends on the state of your pipes, the pipe material, and the damage sustained.
Leak Detection & Repair for Severna Park Homes
We offer leak detection and repair to resolve hidden leaks. Signs that your Severna Park home has a hidden pipe leak include:
A drop in water pressure
Water spots on ceilings and walls
Rising water bills without an increase in water usage
United Air Temp is available to help whether you have a hairline crack or a broken water pipe that requires water line repair and replacement.
Call (877) 552-8919 or contact us online today for leak detection and repair in the Severna Park area.
Full-Service Plumbing in Severna Park
At United Air Temp, we offer a comprehensive list of plumbing services for our customers in Severna Park, including:
Contact United Air Temp online or call (877) 552-8919 for all your plumbing needs in Severna Park.
Schedule Plumbing Service in Severna Park With United Air Temp Today
At United Air Temp, our goal is to make your plumbing service as stress-free as possible. We ensure transparent communication every step of the way, and we provide a written report of all work performed.
When you schedule service with us, we'll give you a two-hour arrival window for repairs so you'll know when to expect us. Add in upfront pricing and a commitment to quality craftsmanship, and we're the logical choice for all your plumbing service needs.
Whether you need an emergency repair or expert replacement, we guarantee your satisfaction. Call (877) 552-8919 or schedule service online now!

Why Choose Us
Discover the United Difference
Environmental Health & Safety
Environmental Health & Safety
Save on Your Service
Our Goal Is to Keep Your Home Comfortable
FREE

second opinion – HVAC or Plumbing replacement
Expires 03/31/23
$25 OFF

for referrer and friend
Expires 03/31/23
$50

diagnostic for first- time plumbing customer
Expires 03/31/23
What Our Clients Are Saying

The tech was at my home less than 10 minutes and gone within 20 minutes due to having my A/C up and running. I really appreciate his response to my home and working with my son due to me being out of town, but we spoke on the phone.

The technician arrived promptly, wore a mask, was very courteous and professional. I am generally very satisfied with service by United Air Temp. In addition to good service (they repair well), it is easy to speak to a person, and promptly. Thank you.

Great service! I called because I was under the impression the AC was not working upstairs. Someone came on the same day, checked out the system, and ensured everything was working. He was polite, thorough, and friendly.

Tech was very attentive and professional. He went out his way to explain everything to me as he was doing it. I appreciated him keeping me informed.
The service technician was awesome! He spent the extra time necessary to ensure the leak in our system was fixed, the system fully recharged and everything was functioning as it should. He was extremely thorough and very professional. We are extremely pleased with the result!