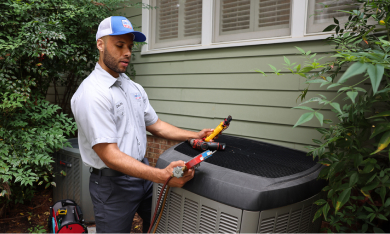 Do I Need a Sump Pump in Washington, DC?
With increased precipitation during springtime storms in Washington, DC, it's important to ensure your home is protected from flood and water damage.
With annual rainfall averaging more than 46 inches per year, consider installing a sump pump. This system will prevent excess rainwater from collecting in your basement or crawl space so you can prevent serious water damage to the structure of your home. 
What Is a Sump Pump?
A sump pump is a system that removes excess water during storms and heavy rainfall.
The system uses a float switch to automatically turn on and pump water out of a pit in your basement or crawl space when the water level reaches a set point. It's then pumped away from your home's foundation to an area where it can safely drain.
With proper maintenance, the average sump pump lasts up to 10 years. Make the investment today to protect your home from costly flood damage.
Benefits of Installing a Sump Pump
With a variety of options and sizes, there's a sump pump to meet the needs of nearly any home. Besides providing exceptional flood protection, a sump pump provides many great benefits to your home, including:
Sewage backup prevention
Mold and mildew prevention
Higher property value
Lower home humidity
Pest infestation prevention
What Types of Homes Need Sump Pumps?
With the large amount of rainfall in DC, all homes can benefit from installing a sump pump to help reduce the risk of water damage. However, certain homes may be at a higher risk of flooding, including:
Homes with basements: Since basements sit below ground level, gravity pulls water downward through every crack or crevice and into your basement.
Homes that have had water damage before: If you've dealt with flooding or water damage, you'll likely have the same issues again unless you adjust your drainage system or install a sump pump.
Homes with poor drainage: If your property has poorly draining soil or barely sits above drainage level, you're at greater risk for flooding and need a sump pump to protect your home.
Choose UAT for Sump Pump Services in DC, MD & VA
Trust United Air Temp for superior sump pump installation to protect your Washington, DC, home from flooding and water damage.
Our trustworthy plumbers are here to help you choose the system that will best meet your home's needs and install it safely and efficiently so that you are ready for the next big storm.
With over 90 years in business, United Air Temp has built a reputation for quality craftsmanship and is committed to serving the DMV. With upfront pricing and a satisfaction guarantee, it's no wonder so many of our customers have become customers for life. 
Protect your home from flooding with United Air Temp! Call us today at (877) 552-8919 or contact us online to schedule sump pump services.

Why Choose Us
Discover the United Difference
Environmental Health & Safety
Environmental Health & Safety
Save on Your Service
Our Goal Is to Keep Your Home Comfortable
FREE

Surge Protector with Electrical Panel Upgrade
Expires 06/30/23
FREE

second opinion – HVAC or Plumbing replacement
Expires 06/30/23
What Our Clients Are Saying

The tech was at my home less than 10 minutes and gone within 20 minutes due to having my A/C up and running. I really appreciate his response to my home and working with my son due to me being out of town, but we spoke on the phone.

The technician arrived promptly, wore a mask, was very courteous and professional. I am generally very satisfied with service by United Air Temp. In addition to good service (they repair well), it is easy to speak to a person, and promptly. Thank you.

Great service! I called because I was under the impression the AC was not working upstairs. Someone came on the same day, checked out the system, and ensured everything was working. He was polite, thorough, and friendly.

Tech was very attentive and professional. He went out his way to explain everything to me as he was doing it. I appreciated him keeping me informed.
The service technician was awesome! He spent the extra time necessary to ensure the leak in our system was fixed, the system fully recharged and everything was functioning as it should. He was extremely thorough and very professional. We are extremely pleased with the result!