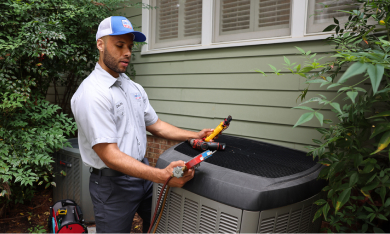 Top 4 Tasks To Prepare Your HVAC Unit for Summer in DC
With summer approaching, now's the time to ensure your HVAC unit is ready to take on the heat and humidity we know well in the DMV area.
Here are a few steps you can take in the spring to make sure your air conditioner is prepared to keep your home cool and comfortable:
Replace Your Air Filter
One of the easiest tasks you can complete is replacing your air conditioner's air filter. Your HVAC system has to work harder when the filter is obstructed by dust, dirt, and debris.
Not only is it important to replace this filter at the start of the cooling season, but you should replace your air filter every three months for optimal performance and reduced system wear and tear.
Remove Debris From Around the Outdoor Unit
The outdoor portion of your air conditioner contains the all-important compressor. Since it's outside, things like branches, twigs, leaves, and pine straws can block the compressor.
Before you turn on your air conditioner for the first time, remove any debris in and around the outdoor unit.
Check for Air Leaks
Air leaks reduce the efficiency of your HVAC system because conditioned air is lost, which contributes to a less comfortable home and drives you to lower the thermostat.
To address this, check your doors, windows, and ductwork for leaks. Consider upgrading old windows and doors for a more efficient option, or seal them with weatherstripping. For leaky ductwork, you need professional ductwork repair.
Schedule Air Conditioning Maintenance
As with most major home systems, professional maintenance can significantly affect your cooling system's performance. Benefits of annual HVAC tune-ups include:
Greater energy efficiency
Reduced risk of breakdowns
Extended system life span
Improved system dependability
And more
Choose United Air Temp for HVAC Services in the DMV
The home comfort experts at United Air Temp have the knowledge and expertise to keep your HVAC systems in peak condition. When you need a trustworthy team, we're well-equipped to do the job efficiently.
To make things even easier, UAT offers comprehensive HVAC maintenance plans. When you sign up for our Full Service Agreement, we'll inspect and clean your entire HVAC system to ensure it operates efficiently. You'll also receive exclusive benefits like:
Priority service
No charge for service calls
No extra charge for 24-hour service
And more
Call (877) 552-8919 or contact us online to schedule AC maintenance or sign up for United Air Temp's Full Service Agreement.

Why Choose Us
Discover the United Difference
Environmental Health & Safety
Environmental Health & Safety
Save on Your Service
Our Goal Is to Keep Your Home Comfortable
FREE

Surge Protector with Electrical Panel Upgrade
Expires 06/30/23
FREE

second opinion – HVAC or Plumbing replacement
Expires 06/30/23
What Our Clients Are Saying

The tech was at my home less than 10 minutes and gone within 20 minutes due to having my A/C up and running. I really appreciate his response to my home and working with my son due to me being out of town, but we spoke on the phone.

The technician arrived promptly, wore a mask, was very courteous and professional. I am generally very satisfied with service by United Air Temp. In addition to good service (they repair well), it is easy to speak to a person, and promptly. Thank you.

Great service! I called because I was under the impression the AC was not working upstairs. Someone came on the same day, checked out the system, and ensured everything was working. He was polite, thorough, and friendly.

Tech was very attentive and professional. He went out his way to explain everything to me as he was doing it. I appreciated him keeping me informed.
The service technician was awesome! He spent the extra time necessary to ensure the leak in our system was fixed, the system fully recharged and everything was functioning as it should. He was extremely thorough and very professional. We are extremely pleased with the result!