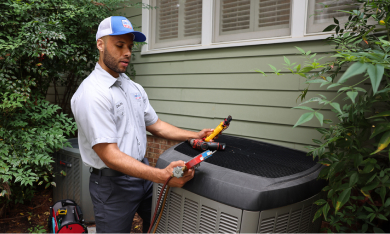 Plumbing Services in Pasadena, MD
Your plumbing lies at the heart of your sanitation and health, so it's highly disruptive when it malfunctions. United Air Temp will ensure your infrastructure is sound through our comprehensive range of services. We repair, install, and maintain all fixtures, drainage systems, and water-related appliances throughout Pasadena and its surrounding boroughs. 
Call United Air Temp at (877) 552-8919 or contact us online today to schedule reliable plumbing services in Pasadena, MD.
Signs You Need a Plumber
Plumbing problems don't always present dramatic symptoms. Subtle malfunctions can quickly lead to destructive breakdowns, but you can reduce your repair costs if you know which symptoms to look for. You need a plumber if: 
Your drainage has slowed down. 

You hear gurgling water in your pipes.

Your water heater or pipes have burst. 

You see condensation on the outside of your water heater.

You need an appliance installed. 

You've lost water pressure. 

You're experiencing sewer backflow.
If you need plumbing repairs, installations, or maintenance in Pasadena, MD, contact us online or call (877) 552-8919.
Water Heater Services in Pasadena
Today's water heaters are highly efficient and can even heat on demand. Your new appliance will reduce your utility bills and extend your life span, so it's an intelligent investment. We install, repair, and service all makes and models, from tankless electric systems to traditional oil-fueled units. We offer: 
Water heater repair: Whether you're experiencing fluctuating temperatures, reduced pressure, or unexpected shutdowns, our repair team has the factory training to fix it correctly the first time. 
Water heater installation and replacement: We install gas, electric, tankless, and traditional water heaters. We'll help you choose an energy-efficient model with exceptional recovery times. 
Water heater maintenance: Routine maintenance prevents unexpected service disruptions that require the replacement of expensive components. Our tune-ups include flushing, burner assembly cleans, and pressure relief valve inspections. 
We work with gas and electric water heaters. The latter heats water faster while separating you from the grid. In contrast, electric systems don't require refueling and are remarkably easy to use. 
Discuss your water heater needs with our Pasadena team at (877) 552-8919 or by contacting us online.
Gas Line Replacement & Repair in Pasadena
Your gas line is dangerous in the wrong hands, but you can count on United Air Temp to offer precision repairs and replacements. Our emergency gas line repairs will address breakdowns around the clock every day of the year. Gas leaks are potentially life-threatening, so stop operating all electrical devices and ventilate the area if you suspect a leak. Evacuate if your fire alarm system is activated and call United Air Temp's urgent repair team. 
24/7 Emergency Plumbing in Pasadena
When your water heater has caused flooding or your sewer lines are backed up, you can't afford to wait for a tardy repair team. Our 24/7 repairs are available 365 days a year. You have a plumbing emergency if: 
Your malfunction relates to your sewer line.

Your water heater has burst.

You've lost your water supply.

Your pipes have burst.

Your basement is flooded. 
Request Service
Get started by filling out a service request form or by giving us a call.
Full-Service Plumbing in Pasadena
There's no plumbing problem that United Air Temp can't handle. Our full-service team can maintain and repair appliances and fixtures alike. We use cutting-edge technology to provide camera diagnostics and trenchless repair. Our services include: 
Call United Air Temp's expert team of plumbers at (877) 552-8919 or contact us online today!
Why Choose United Air Temp?
United Air Temp has been achieving total customer satisfaction since 1931. Our technicians are certified and factory-trained to achieve a level of precision few can match. If you need an emergency plumber, our team is always ready and waiting for your call. We guarantee our repairs and are constantly updating our knowledge. 
For the best plumbing services in Pasadena, (877) 552-8919, or contact United Air Temp online now. 

Why Choose Us
Discover the United Difference
Environmental Health & Safety
Environmental Health & Safety
Save on Your Service
Our Goal Is to Keep Your Home Comfortable
BOGO! $99 Buy This Year's Tune Up, Get Next Year's Free.
Expires 12/31/23
Plus, up to 2 lbs of refrigerant if needed. *Cannot be combined with any other offer. Call for details.
Save Up To $2,000

When You Buy a Complete HVAC System with A/C and Furnace!
Expires 12/31/23
*Cannot be combined with any other offer. Not applicable for a heat pump system.
What Our Clients Are Saying

The tech was at my home less than 10 minutes and gone within 20 minutes due to having my A/C up and running. I really appreciate his response to my home and working with my son due to me being out of town, but we spoke on the phone.

The technician arrived promptly, wore a mask, was very courteous and professional. I am generally very satisfied with service by United Air Temp. In addition to good service (they repair well), it is easy to speak to a person, and promptly. Thank you.

Great service! I called because I was under the impression the AC was not working upstairs. Someone came on the same day, checked out the system, and ensured everything was working. He was polite, thorough, and friendly.

Tech was very attentive and professional. He went out his way to explain everything to me as he was doing it. I appreciated him keeping me informed.
The service technician was awesome! He spent the extra time necessary to ensure the leak in our system was fixed, the system fully recharged and everything was functioning as it should. He was extremely thorough and very professional. We are extremely pleased with the result!