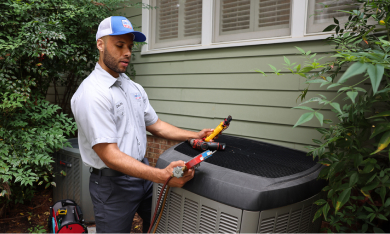 Plumbing Repair in DC, Maryland & Northern Virginia
You depend on your plumbing system for everything from cooking and cleaning to bathing and brushing your teeth.
When you need a plumbing repair, don't trust just any plumber. United Air Temp has been a leader in home comfort since 1931, consistently providing technical expertise and personalized customer service.
Our team of professional plumbers is committed to serving the local communities in the DMV area, quickly and accurately restoring your plumbing so you can get back to normal.  
At United Air Temp, our certified experts are ready to get the job done. Call (877) 522-8919 or contact us online today to schedule service!
Signs You Need Plumbing Repairs
While you can take on minor DIY plumbing projects, most plumbing installations and repairs require professional expertise.
When you hire a licensed and insured plumbing company, you're guaranteed upfront pricing, flawless results, and a 100% satisfaction guarantee.
Here are some signs that you should reach out to a professional plumber at United Air Temp:
Your faucets have low water pressure.
You don't have any or enough hot water.
You can't clear stubborn drain clogs.
You notice water damage on ceilings and walls.
You have standing water in your basement.
Call (877) 522-8919 or contact us online to consult with a United Air Temp technician about your plumbing needs! 
Request Service
Get started by filling out a service request form or by giving us a call.
Plumbing Repairs in Northern VA, MD & DC
Plumbing issues don't fix themselves. You never know when a small plumbing problem like a clogged toilet, spitting faucet, or jammed garbage disposal will escalate and become a larger, more expensive fix.
At United Air Temp, it's our job to help make your life — and pipes — run smoothly. Turn to UAT for:
Choose United Air Temp for All Your Plumbing Repair Needs
At UAT, our certified technicians maintain their skills with annual UAT Academy and factory training. We guarantee that we'll find the right solution to your plumbing issue.
We've helped over 80,000 satisfied customers and are ready to help you too. Our reliable, honest, and trustworthy technicians are equipped to handle large and small plumbing repairs. Let us know how we can help! It's our job.  
Call (877) 522-8919 or contact us online to request fast and friendly plumbing repair from United Air Temp!
Frequently Asked Questions
When should I replace my bathroom faucets?
Faucets are resilient, and many issues are repairable unless the hardware is broken or missing. Homeowners most often replace their faucets when they want to update their bathroom aesthetic.
What do I do if my garbage disposal is jammed?
The first thing is to reset your system. Press the small button on the bottom of your garbage disposal. If it's still jammed, a plumber needs to inspect your garbage disposal to consider repair options. Remember, never reach into your disposal to unjam it.

Why Choose Us
Discover the United Difference
Environmental Health & Safety
Environmental Health & Safety
Save on Your Service
Our Goal Is to Keep Your Home Comfortable
BOGO! $99 Buy This Year's Tune Up, Get Next Year's Free.
Expires 12/31/23
Plus, up to 2 lbs of refrigerant if needed. *Cannot be combined with any other offer. Call for details.
Save Up To $2,000

When You Buy a Complete HVAC System with A/C and Furnace!
Expires 12/31/23
*Cannot be combined with any other offer. Not applicable for a heat pump system.
What Our Clients Are Saying

The tech was at my home less than 10 minutes and gone within 20 minutes due to having my A/C up and running. I really appreciate his response to my home and working with my son due to me being out of town, but we spoke on the phone.

The technician arrived promptly, wore a mask, was very courteous and professional. I am generally very satisfied with service by United Air Temp. In addition to good service (they repair well), it is easy to speak to a person, and promptly. Thank you.

Great service! I called because I was under the impression the AC was not working upstairs. Someone came on the same day, checked out the system, and ensured everything was working. He was polite, thorough, and friendly.

Tech was very attentive and professional. He went out his way to explain everything to me as he was doing it. I appreciated him keeping me informed.
The service technician was awesome! He spent the extra time necessary to ensure the leak in our system was fixed, the system fully recharged and everything was functioning as it should. He was extremely thorough and very professional. We are extremely pleased with the result!