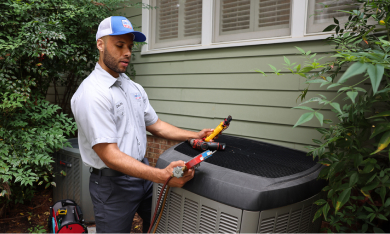 Plumbing Services in Catonsville, MD
You rely on your plumbing every day for cleaning, bathing, and much more. If even one small part of your system isn't working, it could harm the rest. That's where we come in.
United Air Temp has the equipment and skills needed to fix any plumbing problem. We can uncover the main cause of your plumbing woes and provide a lasting solution. From fast repairs to expert installations, we're your go-to team for plumbing solutions in Catonsville.
We Proudly Serve NOVA, DC & BALT Areas
Get started by filling out a service request form.
Signs You Need a Plumber
Plumbing issues are hard to handle alone. You may need the help of a professional if:
Your pipes or faucets are leaking.
Your toilets regularly clog.
Your sinks or showers don't drain quickly.
Your water heater delivers insufficient hot water.
You notice water damage around your home.
Don't try to resolve these issues by yourself. Trust a team of local experts to resolve your plumbing issues. Reach out online or call (877) 552-8919 to request plumbing repair in Catonsville.
24/7 Emergency Plumbing Services in Baltimore County
Plumbing emergencies can arise at any time. It's vital that you leave the repairs to a professional so you can minimize the risk of property damage and personal injury. You'll also save yourself from undue stress.
You may have a plumbing emergency on your hands if:
You have a burst pipe.
Your toilet is overflowing and flooding the bathroom.
You have no water.
You have no hot water.
Call (877) 552-8919 to request 24/7 emergency plumbing repair in Catonsville. The sooner you call, the sooner we can resolve your plumbing problems.
Full-Service Plumbing in the Catonsville Area
When it comes to plumbing services, there's nothing we can't handle at United Air Temp. You can trust us for:
No matter the problem, our crew is ready to help. Reach out online or call (877) 552-8919 to request plumbing services in Catonsville today.
Garbage Disposal Replacement & Repair for Catonsville Homes
Garbage disposals are convenient features of modern kitchens, but they suffer from wear and tear, just like your water heater. If your garbage disposal no longer runs or seems to clog all the time, contact United Air Temp for garbage disposal repair or replacement.
It's important to only put soft foods and small amounts of waste down your garbage disposal. If the disposal can't break up the food or there's too much food in the disposal at once, it can break easily.
We Proudly Serve NOVA, DC & BALT Areas
Get started by filling out a service request form.
Leak Detection & Repair in Catonsville
Pipe leaks can cause major damage to your property. Musty odors and mold development can lead to health issues, and even small leaks can give way to pipe bursts. When you suspect a leaky pipe, be sure to call in a professional for help.
Your water line runs from the water meter through your yard to your home and then splits into pipes behind walls throughout your home to deliver water to faucets, showers, toilets, and other fixtures.
United Air Temp provides leak detection and repair for Catonsville homes. We'll find the leak and ensure it's sealed properly and unlikely to return.
Don't ignore water leaks. Call (877) 552-8919 or contact us online to request leak detection and repair in Catonsville.
Schedule Plumbing Services With United Air Temp Today
As a leader in home comfort since 1931, United Air Temp proudly provides exceptional plumbing services to Catonsville and surrounding areas in Baltimore County.
Our plumbers work hard to earn your service every time. We believe in building relationships and treating every customer just like family. You can trust us to resolve your plumbing problems and ensure reliable operation for years to come.
Contact United Air Temp online or call (877) 552-8919 to request plumbing services in Catonsville today.

Why Choose Us
Discover the United Difference
Environmental Health & Safety
Environmental Health & Safety
Save on Your Service
Our Goal Is to Keep Your Home Comfortable
FREE

second opinion – HVAC or Plumbing replacement
Expires 03/31/23
$25 OFF

for referrer and friend
Expires 03/31/23
$50

diagnostic for first- time plumbing customer
Expires 03/31/23
What Our Clients Are Saying

The tech was at my home less than 10 minutes and gone within 20 minutes due to having my A/C up and running. I really appreciate his response to my home and working with my son due to me being out of town, but we spoke on the phone.

The technician arrived promptly, wore a mask, was very courteous and professional. I am generally very satisfied with service by United Air Temp. In addition to good service (they repair well), it is easy to speak to a person, and promptly. Thank you.

Great service! I called because I was under the impression the AC was not working upstairs. Someone came on the same day, checked out the system, and ensured everything was working. He was polite, thorough, and friendly.

Tech was very attentive and professional. He went out his way to explain everything to me as he was doing it. I appreciated him keeping me informed.
The service technician was awesome! He spent the extra time necessary to ensure the leak in our system was fixed, the system fully recharged and everything was functioning as it should. He was extremely thorough and very professional. We are extremely pleased with the result!