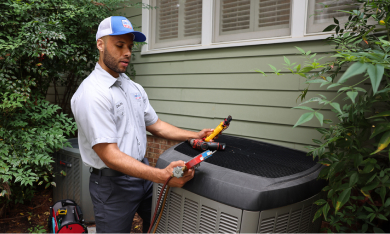 Services
Heating Services
When you select United Air Temp for the installation of climate control equipment, you are selecting the very finest people, equipment, and workmanship. We have been delivering superior heating and cooling systems since 1931.
We have a technical staff of more than 175 people who receive more than 6000 hours of training each year. We have designed and installed more than 55,000 systems and provide service to more than 60,000 families each year. We have received many accolades from sources such as Washington Checkbook, and Neighbors Choice Awards for superior value and quality.
Cooling Services
Our technicians have the experience, training, and ability to trouble shoot all types of air conditioners and heat pumps. Our vast experience and neighborhood focused business model (more than 20 service branches) positions us to render quick, efficient and reliable service.
From factory-trained and licensed installers to our certified climate consultants, we have the ability, training, and experience to help you assess your current situation, design the appropriate solution, and install the correct product in order to deliver the comfort that you deserve.
Plumbing Services
Since 1931, United Air Temp has been a leader in home comfort services, providing air conditioning and heating installation, repair and maintenance. Recognizing that problems with plumbing fixtures and their related infrastructure are frequent headaches for our customers, United Air Temp has expanded its services to include plumbing installation and repair.
As in air conditioning and heating, most plumbing problems that occur in a home can be avoided through a comprehensive maintenance and service program. Our technicians check faucets for proper operation, dye test water closets (toilets), check the operation of all drains inside the home, visually inspect water lines and drain piping.
Geothermal Services
United Air Temp technicians stay on the cutting edge of new technologies to keep your heating and cooling bills as low as possible. New opportunities like Geothermal or Dual Fuel Hybrid systems that weren't available to you in the past are now a reality.

Why Choose Us
Discover the United Difference
Environmental Health & Safety
Environmental Health & Safety
Save on Your Service
Our Goal Is to Keep Your Home Comfortable
BOGO! $99 Buy This Year's Tune Up, Get Next Year's Free.
Expires 12/31/23
Plus, up to 2 lbs of refrigerant if needed. *Cannot be combined with any other offer. Call for details.
Save Up To $2,000

When You Buy a Complete HVAC System with A/C and Furnace!
Expires 12/31/23
*Cannot be combined with any other offer. Not applicable for a heat pump system.
What Our Clients Are Saying

The tech was at my home less than 10 minutes and gone within 20 minutes due to having my A/C up and running. I really appreciate his response to my home and working with my son due to me being out of town, but we spoke on the phone.

The technician arrived promptly, wore a mask, was very courteous and professional. I am generally very satisfied with service by United Air Temp. In addition to good service (they repair well), it is easy to speak to a person, and promptly. Thank you.

Great service! I called because I was under the impression the AC was not working upstairs. Someone came on the same day, checked out the system, and ensured everything was working. He was polite, thorough, and friendly.

Tech was very attentive and professional. He went out his way to explain everything to me as he was doing it. I appreciated him keeping me informed.
The service technician was awesome! He spent the extra time necessary to ensure the leak in our system was fixed, the system fully recharged and everything was functioning as it should. He was extremely thorough and very professional. We are extremely pleased with the result!