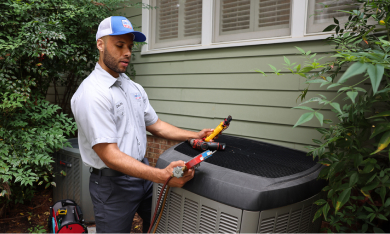 Top 5 Benefits of Installing a Home Standby Generator in the DC Metro
Power outages are stressful, inconvenient, and often dangerous. The DC Metro area is subject to coastal storms and northeast winters, so you should always be prepared for power outages and the challenges that come with them.
The most reliable way to protect your home and ensure your safety during a power outage is with a standby generator.
The benefits of installing a whole-home backup power supply system include:
Power for Your Essentials
One of the primary benefits of a whole-home generator is that it provides an uninterrupted power supply to your entire home during a blackout. This means you won't experience disruptions in essentials, such as:
Medical devices and equipment
Lighting
Refrigeration
Phone charging
And more
A generator ensures that you can continue your daily activities without major inconveniences.
Safety & Security
Power outages can compromise the safety and security of your home.
Critical systems such as security alarms, surveillance cameras, and automatic locks can operate normally with a whole-home generator.
This ensures the safety of your family and property.
Sustained Comfort
Standby generators can maintain the operation of systems like air conditioners, heating systems, water heaters, and more, ensuring your comfort and convenience during power outages.
This is especially crucial during extreme weather conditions when maintaining a comfortable indoor environment is essential.
Protection for Electronics & Appliances
Power fluctuations and surges can damage sensitive electronics such as televisions, computers, dishwashers, and more.
A whole-home generator with built-in surge protection helps safeguard your devices and appliances, preventing potential damage and the need for expensive repairs or replacements.
Automatic Power
Power outages happen unexpectedly, making accessing and setting up a portable generator difficult and unsafe.
Whole-home generators are on the ready. When the power goes out, a transfer switch turns your generator on so there's no interruption in power, even for an extended period.
Contact United Air Temp for Whole-Home Generator Installation
United Air Temp recommends installing a standby generator to protect your home during a power outage and avoid untimely disruptions to your routine.
The peace of mind and reliability of a whole-home unit make it a worthwhile investment for DC Metro Area homes.
Professional installation is required to ensure safety and proper function. United Air Temp can help with all your generator and electrical service needs to ensure your home has the power it needs.
Request a generator installation for your DC Metro home by calling (877) 552-8919 now.

Why Choose Us
Discover the United Difference
Environmental Health & Safety
Environmental Health & Safety
Save on Your Service
Our Goal Is to Keep Your Home Comfortable
BOGO! $99 Buy This Year's Tune Up, Get Next Year's Free.
Expires 12/31/23
Plus, up to 2 lbs of refrigerant if needed. *Cannot be combined with any other offer. Call for details.
Save Up To $2,000

When You Buy a Complete HVAC System with A/C and Furnace!
Expires 12/31/23
*Cannot be combined with any other offer. Not applicable for a heat pump system.
What Our Clients Are Saying

The tech was at my home less than 10 minutes and gone within 20 minutes due to having my A/C up and running. I really appreciate his response to my home and working with my son due to me being out of town, but we spoke on the phone.

The technician arrived promptly, wore a mask, was very courteous and professional. I am generally very satisfied with service by United Air Temp. In addition to good service (they repair well), it is easy to speak to a person, and promptly. Thank you.

Great service! I called because I was under the impression the AC was not working upstairs. Someone came on the same day, checked out the system, and ensured everything was working. He was polite, thorough, and friendly.

Tech was very attentive and professional. He went out his way to explain everything to me as he was doing it. I appreciated him keeping me informed.
The service technician was awesome! He spent the extra time necessary to ensure the leak in our system was fixed, the system fully recharged and everything was functioning as it should. He was extremely thorough and very professional. We are extremely pleased with the result!