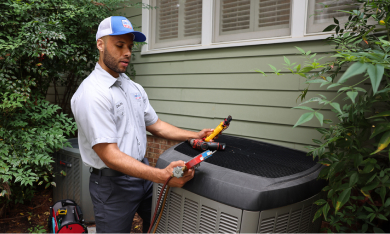 News
National magazine recognizes United Air Temp
The Air Conditioning, Heating, Refrigeration News has listed United Air Temp as the 4th Largest "Residential All Star" in the United States.
Request Service
Get started by filling out a service request form or by giving us a call.
United Air Temp helps Habitat for Humanity
United Air Temp furnished and installed a gas furnace for a family in Manassas Virginia through its association with Habitat for Humanity.
United Air Temp supports local sports team
United Air Temp Receives Ethics Award
In 2015, United Air Temp has received the Ethics award from The Society of Financial Service Professionals of Greater Washington and Northern Virginia. The Ethics Award honors companies that demonstrate a firm commitment to ethical business practices in everyday operations, management philosophies and responses to crises or challenges.
New offices open in Georgia
United Air Temp has opened two new offices in the Atlanta area: Marietta and Norcross. Both offices can be reached by phoning 800-890-HEAT.
United Air Temp is awarded the 2012 PHCC "HVACR Contractor of the Year"
President Mike Giordano and Senior Vice President Butch McGonegal represented United Air Temp, Lorton, Va., on Oct. 5 as the recipient of the 2012 PHCC "HVACR Contractor of the Year" award during CONNECT 2012. The award is given yearly during the Plumbing-Heating-Cooling Contractors-National Association's (PHCC) conference in Philadelphia, Pa.

Why Choose Us
Discover the United Difference
Environmental Health & Safety
Environmental Health & Safety
Save on Your Service
Our Goal Is to Keep Your Home Comfortable
BOGO! $99 Buy This Year's Tune Up, Get Next Year's Free.
Expires 12/31/23
Plus, up to 2 lbs of refrigerant if needed. *Cannot be combined with any other offer. Call for details.
Save Up To $2,000

When You Buy a Complete HVAC System with A/C and Furnace!
Expires 12/31/23
*Cannot be combined with any other offer. Not applicable for a heat pump system.
What Our Clients Are Saying

The tech was at my home less than 10 minutes and gone within 20 minutes due to having my A/C up and running. I really appreciate his response to my home and working with my son due to me being out of town, but we spoke on the phone.

The technician arrived promptly, wore a mask, was very courteous and professional. I am generally very satisfied with service by United Air Temp. In addition to good service (they repair well), it is easy to speak to a person, and promptly. Thank you.

Great service! I called because I was under the impression the AC was not working upstairs. Someone came on the same day, checked out the system, and ensured everything was working. He was polite, thorough, and friendly.

Tech was very attentive and professional. He went out his way to explain everything to me as he was doing it. I appreciated him keeping me informed.
The service technician was awesome! He spent the extra time necessary to ensure the leak in our system was fixed, the system fully recharged and everything was functioning as it should. He was extremely thorough and very professional. We are extremely pleased with the result!