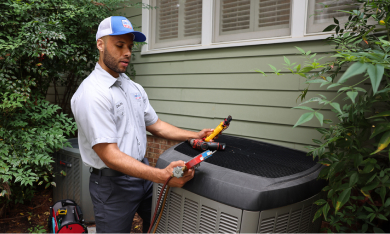 Plumbing Services in Lorton, VA
When it comes to plumbing issues, the average homeowner needs to rely on a professional instead of attempting to DIY. United Air Temp's team of courteous, experienced plumbers proudly serves the Lorton area.
We handle all your plumbing needs, from pesky pipe leaks to serious sewage backups. We also offer 24/7 plumbing repair when you need immediate help.
Contact United Air Temp online or call (877) 552-8919 today for plumbing services in Lorton!
Signs You Need a Plumber
It's better to be proactive than reactive. Fast response is the key to minimizing downtime and water damage.
Any small abnormalities with your plumbing shouldn't be ignored — contact a trusted plumber to address:
Pipe or appliance leaks
Increases in your water bill
Reduced hot water capacity
A jammed garbage disposal
Slow-moving drains
At the first sign of plumbing concerns, reach out to United Air Temp. Call (877) 552-8919 or schedule an appointment online.
24/7 Emergency Plumbing in the Lorton Area
Some types of plumbing problems can't wait. When you need an emergency plumber, United Air Temp is standing by to help.
Sewage backup is the sign of a deeper sewer line clog or break. The danger of sewage in your home can't wait for normal business hours.
Frozen and burst pipes cause water damage quickly and mean you have no water supply until the issue is resolved. You need to get help right away.
Overflowing toilets create quite a mess of water damage. We'll arrive quickly to provide emergency help.
Gas leaks put your family and your health at risk. Get emergency plumbing help to address these issues.
If you need an emergency plumber, call (877) 552-8919 now! United Air Temp will arrive quickly to inspect and repair the issue.
Full-Service Plumbing for Lorton Homes
You can count on our team no matter what plumbing service you need. United Air Temp provides comprehensive plumbing services, including:
Request plumbing services online or call (877) 552-8919 today!
Drain Cleaning in Lorton & Surrounding Areas
When your drains start to slow down, professional clearing is important. We offer drain cleaning and clogged sink clearing and repair services to help get things flowing. If the clog is deeper along the sewer line, hydro jetting can blast it away.
There are several common causes of backed-up drains, including:
Mineral buildup
Hair
Oil
Grease
Rice
Pasta
Bones
Fruit pits
And more
The best way to prevent these problems is to keep these items out of the drains, to begin with, but sometimes clogs will still occur.
Schedule drain or sewer cleaning by contacting United Air Temp online or calling (877) 552-8919 today!
Water Treatment & Purification in Lorton
While the local water treatment plants do a good job of removing harmful items from the water, you may want to filter it to improve the taste. At United Air Temp, we install water treatment and purification systems that filters your water as it enters your home instead of opting for multiple point-of-use filters for individual fixtures.
Hard water is another issue that is often left to homeowners to resolve. You may have hard water if your skin is dry after a shower or if you notice mineral buildup on your fixtures. A water softener is a great option to address this concern.
We Proudly Serve NOVA, DC & BALT Areas
Get started by filling out a service request form.
Why Choose United Air Temp for Your Lorton Plumbing Needs?
When you need plumbing services, you want the experts at United Air Temp. We offer on-time scheduling and 24/7 plumbing repair. All of our repair services have a two-hour arrival window, so you aren't waiting around for the plumber all day.
We stand behind our core values of treating people how they want to be treated and being people of character. Every project comes with a free estimate, and we have over 90 years in business.
Reach out to our reliable, honest, and trustworthy plumbers today. Call (877) 552-8919 or contact us online to get plumbing help in Lorton.

Why Choose Us
Discover the United Difference
Environmental Health & Safety
Environmental Health & Safety
Save on Your Service
Our Goal Is to Keep Your Home Comfortable
FREE

second opinion – HVAC or Plumbing replacement
Expires 11/30/22
$25 OFF

for referrer and friend
Expires 11/30/22
$50

diagnostic for first- time plumbing customer
Expires 11/30/22
What Our Clients Are Saying

The tech was at my home less than 10 minutes and gone within 20 minutes due to having my A/C up and running. I really appreciate his response to my home and working with my son due to me being out of town, but we spoke on the phone.

The technician arrived promptly, wore a mask, was very courteous and professional. I am generally very satisfied with service by United Air Temp. In addition to good service (they repair well), it is easy to speak to a person, and promptly. Thank you.

Great service! I called because I was under the impression the AC was not working upstairs. Someone came on the same day, checked out the system, and ensured everything was working. He was polite, thorough, and friendly.

Tech was very attentive and professional. He went out his way to explain everything to me as he was doing it. I appreciated him keeping me informed.
The service technician was awesome! He spent the extra time necessary to ensure the leak in our system was fixed, the system fully recharged and everything was functioning as it should. He was extremely thorough and very professional. We are extremely pleased with the result!