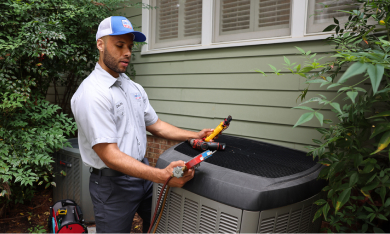 Plumbing Services in McLean, VA
When you need plumbing services in the McLean area, let the team at United Air Temp deliver the care and expertise necessary to ensure a safe water supply, protect your home from water damage, and repair malfunctioning fixtures and equipment.
With skill and dedication to excellent customer service, we can handle all your plumbing needs, from quality replacements to emergency repairs.
To schedule plumbing services in the McLean area, call (877) 552-8919 or reach out to us online today.
Signs You Need a Plumber
Not sure you need a plumber? Keep an eye out for these signs that you should be calling a professional as quickly as possible:
You find water damage on walls, ceilings, or floors.
Your hot water runs out quickly.
You've noticed changes in water pressure, smell, taste, consistency, or color.
Your water bills are going up for no reason.
You're hearing water running when no fixtures are in use.
You have recurrent drain clogs.
We Proudly Serve NOVA, DC & BALT Areas
Get started by filling out a service request form.
24/7 Emergency Plumbing in McLean
At United Air Temp, our team is available for 24/7 emergency plumbing services when necessary. Give us a call for assistance when dealing with immediate threats such as:
Burst pipes causing flooding
Sewer line issues causing backflow
Contamination of your water from a main line issue
Need a plumber fast in McLean? Call (877) 552-8919 to request emergency plumbing repair from United Air Temp.
Full-Service Plumbing in Fairfax County
You can always count on United Air Temp for prompt and professional service for whatever plumbing services your home in McLean might require.
We combine superior training, excellent customer service, and reliable products and equipment to ensure consistent customer satisfaction on every project, no matter how big or small your plumbing needs may be. Call on our team for:
Call (877) 552-8919 or reach out to us online to get help from United Air Temp.
McLean-Area Water Treatment & Purification
Tired of hard water or suspect unknown contaminants? Consider scheduling a water treatment installation from our team. With water treatment for your entire home, you can be sure that your water supply is safe and clean. You won't have to worry about contamination in your shower water, residue on clothing or dishes, or other problems that might occur if you use point-of-use filtration instead.
We also offer water softening treatments. If you notice that your dishes, clothes, or hair have residue when they dry, it may be caused by mineral buildup. You might also notice hard water in the form of accumulation in your water heater, clogs in your drains, and similar buildup anywhere water splashes and dries.
Call (877) 552-8919 or contact us online to schedule water treatment services in McLean.
Sump Pump Replacement & Repair in McLean & Surrounding Areas
When it rains harder than usual, do you have to worry about your basement flooding?
Without proper control of hydrostatic pressure via a sump pump, it's easy for a basement to flood when facing unprecedented rainfall, a collapsed gutter, or a leak from a burst pipe.
Avoid the risk with regular testing and sump pump repair and replacement services from United Air Temp.
We Proudly Serve NOVA, DC & BALT Areas
Get started by filling out a service request form.
Schedule Plumbing Services With United Air Temp for Your McLean Home
When you want plumbing services you can count on to keep your home in McLean as comfortable, clean, and secure against plumbing accidents as possible, you want to work with the experts at United Air Temp.
We maintain core values focused on service to the community and outstanding performance through training and personal character. We achieve excellence for our customers through:
Honest, transparent pricing
Free estimates
Precise scheduling
24/7 emergency repairs
Same-day service
Contact us online or call (877) 552-8919 to schedule service! Get started with a free estimate!

Why Choose Us
Discover the United Difference
Environmental Health & Safety
Environmental Health & Safety
Save on Your Service
Our Goal Is to Keep Your Home Comfortable
FREE

second opinion – HVAC or Plumbing replacement
Expires 11/30/22
$25 OFF

for referrer and friend
Expires 11/30/22
$50

diagnostic for first- time plumbing customer
Expires 11/30/22
What Our Clients Are Saying

The tech was at my home less than 10 minutes and gone within 20 minutes due to having my A/C up and running. I really appreciate his response to my home and working with my son due to me being out of town, but we spoke on the phone.

The technician arrived promptly, wore a mask, was very courteous and professional. I am generally very satisfied with service by United Air Temp. In addition to good service (they repair well), it is easy to speak to a person, and promptly. Thank you.

Great service! I called because I was under the impression the AC was not working upstairs. Someone came on the same day, checked out the system, and ensured everything was working. He was polite, thorough, and friendly.

Tech was very attentive and professional. He went out his way to explain everything to me as he was doing it. I appreciated him keeping me informed.
The service technician was awesome! He spent the extra time necessary to ensure the leak in our system was fixed, the system fully recharged and everything was functioning as it should. He was extremely thorough and very professional. We are extremely pleased with the result!