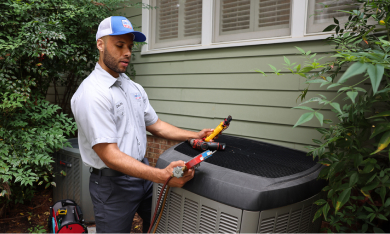 Plumbing Services in Owings Mills, MD
Plumbing is an essential part of every home. If any part of the system has a problem, it could lead to more problems elsewhere. When you need plumbing services in Owings Mills, look to United Air Temp for help.
Our plumbers have seen it all and resolved it all. We have the tools and talents needed to repair or replace any part of your home's plumbing system.
Trust us to get your plumbing back in order. Talk to our staff online or call (877) 552-8919 to discuss your plumbing problem.
Full-Service Plumbing in Owings Mills, MD
No matter your plumbing problem, United Air Temp is here to help. You can count on us for:
Make sure to have trained professionals handle your plumbing problems. For comprehensive plumbing services in Owings Mills, MD, look no further than United Air Temp. Connect with us online or call (877) 552-8919.
24/7 Emergency Plumbing in Owings Mills, MD
Plumbing problems can occur at any time, and emergencies need immediate attention. United Air Temp is here for you when you need help. You may have an emergency on your hands if:
Your pipe burst and will not stop flowing: If you aren't able to shut off your main water valve, water will continue to flow and you need help from a pro.
You have water flooding your basement: If water is pouring into your basement or crawl space from a pipe, a pro needs to resolve the issue.
You have no water pressure: If your taps don't have significant flow, you can't access your water and you need help from a professional plumber.
Signs You Need Emergency Plumbing
Not every situation is an emergency, but some problems are serious enough to require immediate attention. You may need help immediately if:
Your toilets are clogged and flooding
Your water heater won't provide hot water
Your pipes are pouring out water
Trust our plumbers to repair your plumbing problem ASAP. Talk to us online or call (877) 552-8919 for help.
Request Service
Get started by filling out a service request form or by giving us a call.
Water Treatment & Purification in Owings Mills, MD
The cleanliness of your water is vital. Many homes in the Owings Mills region suffer from water quality issues that can be alleviated with the right systems. United Air Temp can install and service water treatment systems. These systems can:
Remove minerals and sediments
Resolve hard water issues
Improve water taste and smell
Hard water is a common problem for many homeowners, creating a slimy feeling when cleaning or leaving a white residue on dishes. With the right systems in place, problems like these can be resolved.
Enjoy the cleanest water possible with help from United Air Temp. Call (877) 552-8919 now or reach us online to get started.
Hydro Jetting in Owings Mills, MD
When a serious drain clog hits, serious repairs may be needed. At United Air Temp, we provide a variety of drain cleaning services, including hydro jetting. A hydro jetting service can:
Blast away thick debris in a sewer pipe
Wash away clogs that are deep in the pipe
Clean the pipe without harsh chemicals
Our team can also perform a video inspection of the pipe to understand the clog. We also install sewer ejectors when your sewer line lies higher than your drains.
For comprehensive drain cleaning and maintenance services, United Air Temp is here to help. Talk to our crew online or by calling (877) 552-8919.
Schedule Plumbing Services Now
The crew at United Air Temp believes in customer service in every way. Our licensed and insured technicians provide quality craftsmanship, on-time service, and proper repairs. Our team goes through regular training to ensure the best quality work. With us on the job, your plumbing problems are as good as gone.
Schedule the plumbing services you need now by calling (877) 552-8919 or speaking to us online.

Why Choose Us
Discover the United Difference
Environmental Health & Safety
Environmental Health & Safety
Save on Your Service
Our Goal Is to Keep Your Home Comfortable
Save Up To $2,000

When You Buy a Complete HVAC System with A/C and Furnace!
Expires 09/30/23
*Cannot be combined with any other offer. Not applicable for a heat pump system.
FREE

Surge Protector with Electrical Panel Upgrade
Expires 09/30/23
What Our Clients Are Saying

The tech was at my home less than 10 minutes and gone within 20 minutes due to having my A/C up and running. I really appreciate his response to my home and working with my son due to me being out of town, but we spoke on the phone.

The technician arrived promptly, wore a mask, was very courteous and professional. I am generally very satisfied with service by United Air Temp. In addition to good service (they repair well), it is easy to speak to a person, and promptly. Thank you.

Great service! I called because I was under the impression the AC was not working upstairs. Someone came on the same day, checked out the system, and ensured everything was working. He was polite, thorough, and friendly.

Tech was very attentive and professional. He went out his way to explain everything to me as he was doing it. I appreciated him keeping me informed.
The service technician was awesome! He spent the extra time necessary to ensure the leak in our system was fixed, the system fully recharged and everything was functioning as it should. He was extremely thorough and very professional. We are extremely pleased with the result!