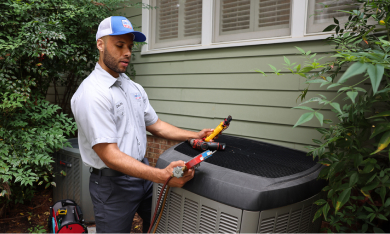 How To Troubleshoot a Broken Water Heater
Are you dealing with cold showers, puddles in your basement, or scorching hot water? These problems don't always require an immediate call for professional water heater repair. Some can be solved on your own with a little troubleshooting.
Before attempting a DIY fix, it's important to turn the power off at the circuit breaker to avoid injuring yourself.
You should also know what type of water heater you're working with, whether it's gas or electric. You can tell the difference by looking at the heat source. An electric heater has upper and lower heating elements that lead into the water tank; a gas system heats water from below the tank via a gas burner.
Once you know what you're working with, try these fixes for common water heater issues:
You Have No Hot Water
This is among the most frequent water heater problems you can encounter. How you restore hot water depends on the type of heater you have.
If you have a gas water heater, the pilot light may need to be re-lit. However, beware of natural gas leaks if you smell a rotten egg odor near your water heater. Leave the house, call your utility company to shut off your gas supply, and call an emergency plumber for gas line repair.
If you have an electric water heater, it can lose power because of a tripped circuit breaker. Flip the breaker back on and wait half an hour, then the hot water should return. However, frequently tripped breakers indicate an electrical issue that requires professional service.
The Water Is Too Hot
Extremely hot water can be dangerous. If your hot water is too hot, you can lower the temperature on your water heater.
The general range is 120 to 140 degrees Fahrenheit for optimal water temperature and energy savings. Setting the temperature below 120 degrees can allow bacteria to grow in your water heater tank, while over 140 degrees presents a scalding risk.
There are some differences between different water heater models, but generally:
Tankless water heaters have a digital control panel that allows you to lower or raise the temperature as needed.
Gas water heaters have a dial near the bottom of the unit that you can turn to adjust the temperature.
Electric water heaters often have two thermostats, and you need to adjust both. Turn the breaker off, remove the access panel, and use a flathead screwdriver to lower or raise the thermostat.
Your Water Heater Is Leaking
Many culprits can cause a water heater leak. If the leak comes from the storage tank, you're likely dealing with corrosion that could require a full replacement.
Leaks can also occur at the drain valve, pressure relief valve, or water supply line. Check for valves, bolts, or connections that need tightening. A simple turn of the wrench could do the trick.
However, if the leak continues, you need emergency water heater repair.
Call United Air Temp for Professional Water Heater Service in the DC Metro Area
If none of these do-it-yourself solutions fully fix your water heater, it's time to bring in a professional. The expert plumbers at United Air Temp have the tools and experience to restore your water heater.
We're here for you 24/7, so don't hesitate when you need water heater service from our team. With UAT, you can count on:
A customer-first approach
Upfront pricing
Free estimates on replacements
Quality craftsmanship
Satisfaction guaranteed
We're committed to serving Northern Virginia and Washington, DC, with the highest-quality service.
Schedule water heater repair by calling United Air Temp at (877) 552-8919 today.

Why Choose Us
Discover the United Difference
Environmental Health & Safety
Environmental Health & Safety
Save on Your Service
Our Goal Is to Keep Your Home Comfortable
Save Up To $2,000

When You Buy a Complete HVAC System with A/C and Furnace!
Expires 09/30/23
*Cannot be combined with any other offer. Not applicable for a heat pump system.
FREE

Surge Protector with Electrical Panel Upgrade
Expires 09/30/23
What Our Clients Are Saying

The tech was at my home less than 10 minutes and gone within 20 minutes due to having my A/C up and running. I really appreciate his response to my home and working with my son due to me being out of town, but we spoke on the phone.

The technician arrived promptly, wore a mask, was very courteous and professional. I am generally very satisfied with service by United Air Temp. In addition to good service (they repair well), it is easy to speak to a person, and promptly. Thank you.

Great service! I called because I was under the impression the AC was not working upstairs. Someone came on the same day, checked out the system, and ensured everything was working. He was polite, thorough, and friendly.

Tech was very attentive and professional. He went out his way to explain everything to me as he was doing it. I appreciated him keeping me informed.
The service technician was awesome! He spent the extra time necessary to ensure the leak in our system was fixed, the system fully recharged and everything was functioning as it should. He was extremely thorough and very professional. We are extremely pleased with the result!