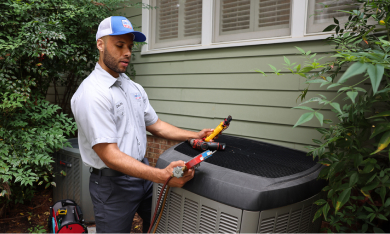 Plumbing Services in Bethesda, MD
You count on the plumbing in your Bethesda home daily to deliver fresh, clean water from your faucets and carry the wastewater away from your home.
When you have plumbing issues, your household can quickly come to a halt. That's when you can count on United Air Temp for your plumbing needs. We offer comprehensive plumbing services to restore your home and routines with minimal stress.
With United Air Temp, you can trust our expertise and customer service. We pride ourselves on respecting our customers and offering free estimates for all our work.
We Proudly Serve NOVA, DC & BALT Areas
Get started by filling out a service request form.
Signs You Need a Plumber
A burst pipe is a clear sign you need a plumber, but not all signs of plumbing problems are that obvious. Here are some common signs that you should call a professional plumber:
You have low water pressure.
Your drains are clogged.
Your toilet is overflowing.
Your garbage disposal is jammed.
You see water spots on walls and ceilings.
Your faucets or drains gurgle.
For professional plumbing services in Bethesda, call UAT at (877) 552-8919 or contact us online to schedule your appointment today!
24/7 Emergency Plumbing for Bethesda Homes
When a plumbing emergency happens, you need reliable and efficient plumbers who can quickly diagnose and solve the problem.
United Air Temp offers 24/7 emergency service, so you can count on us whenever a plumbing disaster strikes in your Bethesda home.
Here are the most common plumbing emergencies we help fix:
Burst pipes
Sewage backups and overflowing toilets
No hot water
No water
Burst water heater
Leaky gas lines
Call UAT at (877) 552-8919 for 24/7 emergency plumbing services in Bethesda.
Full-Service Plumbing in the Bethesda Area
UAT offers full-service plumbing solutions for Bethesda homeowners. Our experienced and reliable plumbers will always communicate the needed work and the price before service begins.
Don't let plumbing problems hold you back! We can help you with:
Choose the Bethesda plumbing experts! Call us at (877) 552-8919 or contact us online today!
Water Heater Services in Montgomery County
You count on your water heater to work when you want it to. Choose UAT to help you with all your water heater service needs:
Water heater repair: Let us help you get your hot water back. We'll inspect and fix your water heater quickly, so you and your family can have the hot water you need.
Water heater installation and replacement: Traditional water heaters last around eight to 12 years, while tankless water heaters last around 15 to 20 years before they need to be replaced. Guarantee proper installation by choosing the trained, professional technicians at UAT.
Water heater maintenance: Professional water heater maintenance will help extend the life span of your water heater. Our maintenance service includes a comprehensive inspection, cleaning, and repairs for your current water heater.
We Proudly Serve NOVA, DC & BALT Areas
Get started by filling out a service request form.
Sump Pump Replacement & Repair in Bethesda
Sump pumps are a necessary appliance in the Bethesda area. With unpredictable and sometimes harsh weather, sump pumps help homeowners have peace of mind. They help reduce flooding and protect your home against water damage.
If you have a sump pump, you must also test it regularly to ensure it's working properly. Regular testing will help determine if your sump pump needs to be repaired or replaced before a crisis happens.
When you need sump pump services, UAT's courteous and reliable professionals are ready to help. Call us at (877) 552-8919 or contact us online today!
Choose UAT for Your Plumbing Solutions
When you need plumbing services in your Bethesda home, trust the experts at United Air Temp to help you. We care about our customers. That's why we offer upfront pricing and are dedicated to exceeding your expectations.
Our two-hour arrival windows show we respect and value your time. The high-quality products we use and the exceptional workmanship we deliver on every project reflect our dedication to service excellence.
Choose the company that cares about your plumbing needs! Choose United Air Temp for your Bethesda plumbing services. Call us at (877) 552-8919 or contact us online today!

Why Choose Us
Discover the United Difference
Environmental Health & Safety
Environmental Health & Safety
Save on Your Service
Our Goal Is to Keep Your Home Comfortable
FREE

second opinion – HVAC or Plumbing replacement
Expires 03/31/23
$25 OFF

for referrer and friend
Expires 03/31/23
$50

diagnostic for first- time plumbing customer
Expires 03/31/23
What Our Clients Are Saying

The tech was at my home less than 10 minutes and gone within 20 minutes due to having my A/C up and running. I really appreciate his response to my home and working with my son due to me being out of town, but we spoke on the phone.

The technician arrived promptly, wore a mask, was very courteous and professional. I am generally very satisfied with service by United Air Temp. In addition to good service (they repair well), it is easy to speak to a person, and promptly. Thank you.

Great service! I called because I was under the impression the AC was not working upstairs. Someone came on the same day, checked out the system, and ensured everything was working. He was polite, thorough, and friendly.

Tech was very attentive and professional. He went out his way to explain everything to me as he was doing it. I appreciated him keeping me informed.
The service technician was awesome! He spent the extra time necessary to ensure the leak in our system was fixed, the system fully recharged and everything was functioning as it should. He was extremely thorough and very professional. We are extremely pleased with the result!